Boulder's funk/soul outfit The Pamlico Sound recently announced that they will be releasing a new five-song EP titled Jive Church. After jumping back into the local music scene with a bang (the band went on hiatus in 2014 and returned to the mix in 2015), The Pamlico Sound have had a busy year. With headlining shows at major venues across Colorado, TPS decided it was finally time to head back to the studio for some new tunes.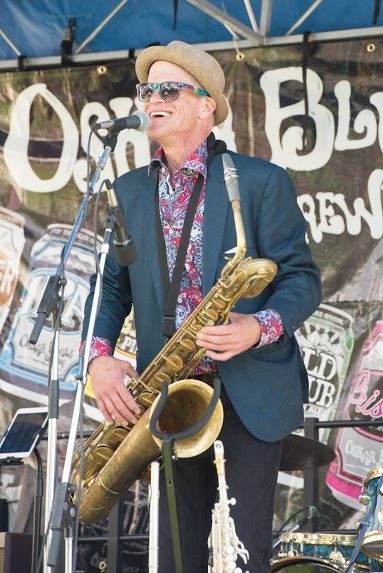 Jive Church was recorded live with engineer/producer Joshua Fairman (The New Mastersounds, Atomga) and mastering was done by David Glasser. Recorded at Colorado's Scanhope Sound, TPS promises Jive Church will give fans "what they're waiting for!" Said member Will Baumgartner, "Jive Church is a distillation of the essence of The Pamlico Sound: infectious high-energy vocals and horns over a solid bedrock of pure funk, and a sense of humor and freedom unmatched by any band you're likely to have ever heard."
Listen to The Pamlico Sound's new EP Jive Church:
Jive Church showcases main TPS members Ghana Queen (LaShá Afarko) on vocals, and The Reverend EverReady (Will Baumgartner) on vocals, sax, flute, and harmonica. Scott Parker Mast (Los Lobos, Euforquestra) guested percussion on the recording, and will play live with the band at their Ophelia's CD Release Show on 10/13/16.
The Pamlico Sound will actually host two CD release shows for Jive Church, the first being this Saturday, September 24th, at The Lazy Dog, and the second being their Ophelia's gig in October. Said The Reverend EverReady, "At the CD release shows, we promise not only a continuation of the joyful madness experienced in past shows, including the legendary 'Jive Church Experience', complete with soul-stirring shout-alongs and 'Funk Baptisms', but new pleasures as well, including special guests."
There will even be a Funk Costume Contest at each show, and the winner will receive a TPS t-shirt and their own copy of Jive Church. Make sure to get more details on these release shows by checking out The Pamlico Sound's Facebook. And give Jive Church a groovy listen for yourself above!
Follow Hannah on Instagram and Twitter.
All photos, videos, and embedded tracks per the artists featured and those credited. This feature was edited for brevity and clarity by BolderBeat.