When I first heard of Robert Randolph, I was intrigued enough by the idea of a pedal steel guitarist playing a high-energy soul/blues/funk/groove mix that I pulled up a live video to see and hear what all the noise was about. What came up was a performance on David Letterman of Robert Randolph and the Family Band's hit "Ain't Nothing Wrong With That." I was immediately hooked, not only by the song itself and Randolph's outrageously good pedal steel playing, but by the overall tightness and infectious joy of the band.
That was about 10 years ago. Last Friday night at The Fox Theatre in Boulder, I finally got to actually see and hear Robert Randolph and the Family Band live in person, and my initial impressions of the group not only proved themselves true, but were greatly expanded by this ridiculously fun, funky and soulful show. RRTFB haven't just stood the test of time, they've grown into an irresistible force of nature. The band is aptly named, with Robert's sister Lenesha providing hugely powerful vocal support and joyful showmanship, powerhouse drumming by Marcus Randolph, and their cousin Kasey Square on keys. And while bassist Steve Ladson and guitarist Ray Holloman may not be directly related, they sure act, play, and sing like family onstage.
The concert began with Robert playing solo, wrenching gutsy wailing sounds in a free-form bluesy style, out of his instrument. The band eventually wove into this soundscape, building on the power of the pedal steel's soulful soliloquy, and then BOOM: They kicked into a sledgehammer-heavy and solidly uplifting version of Sam & Dave's soul classic "I Thank You." You've never seen a dance floor spring to life faster.
While the setlist I was provided had "Ain't Nothing Wrong With That" listed as the second song, either I was already so deliriously hypnotized that I missed it, or they decided to forego the ol' "Let's give 'em the hits!" approach, disregard the setlist, and play what felt right at the moment. This happened several times during the show, as when, midway through their set, they crunched their way through a badass instrumental reading of Black Sabbath's "War Pigs."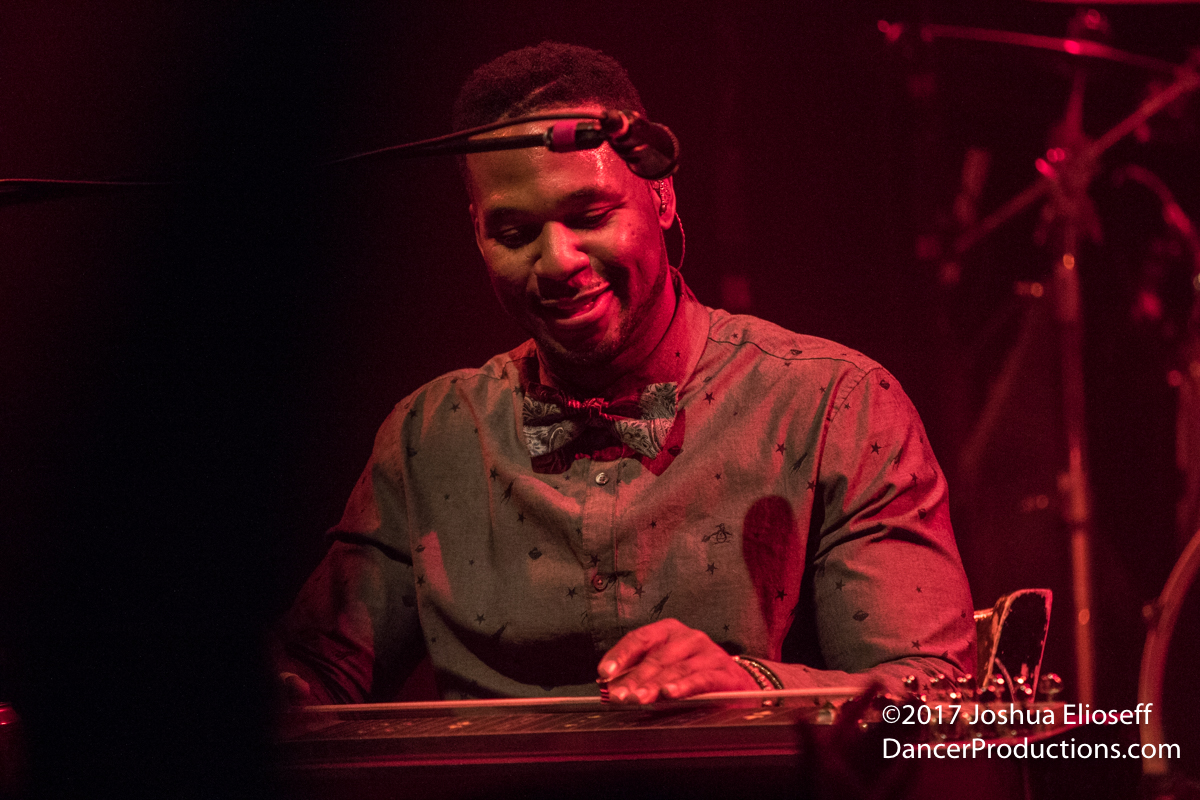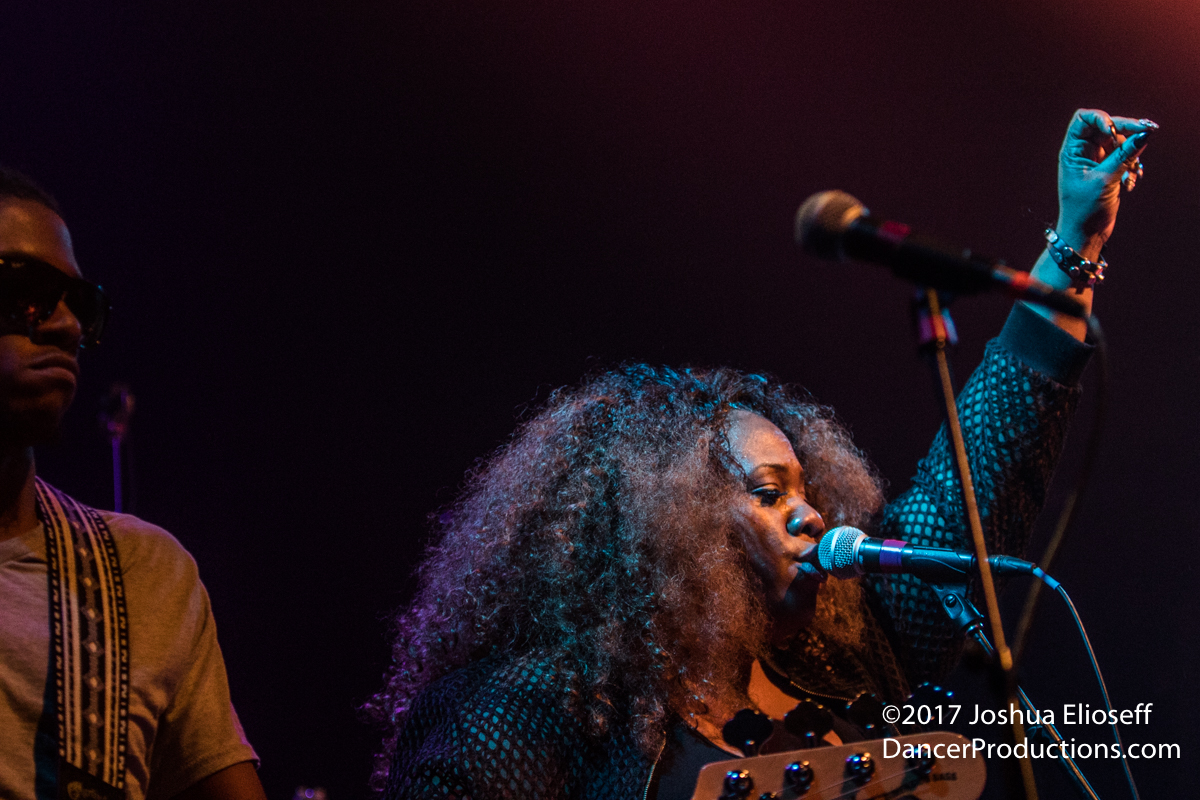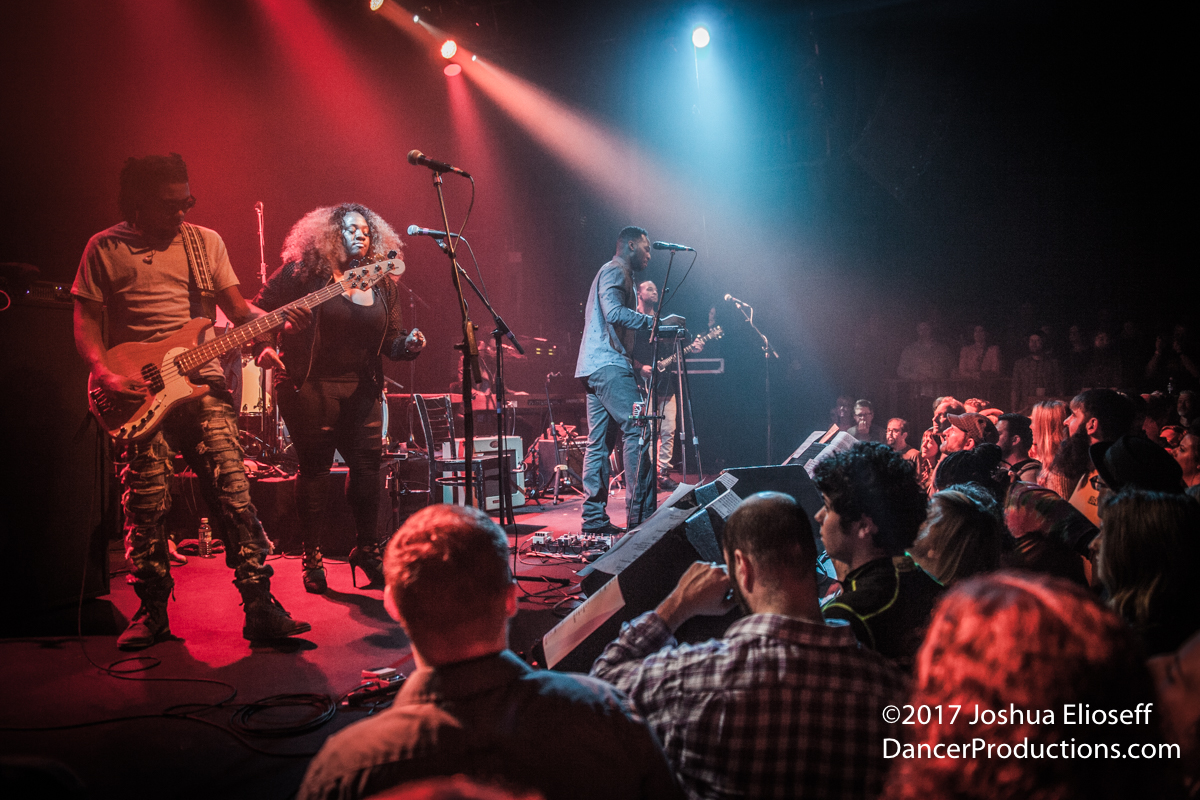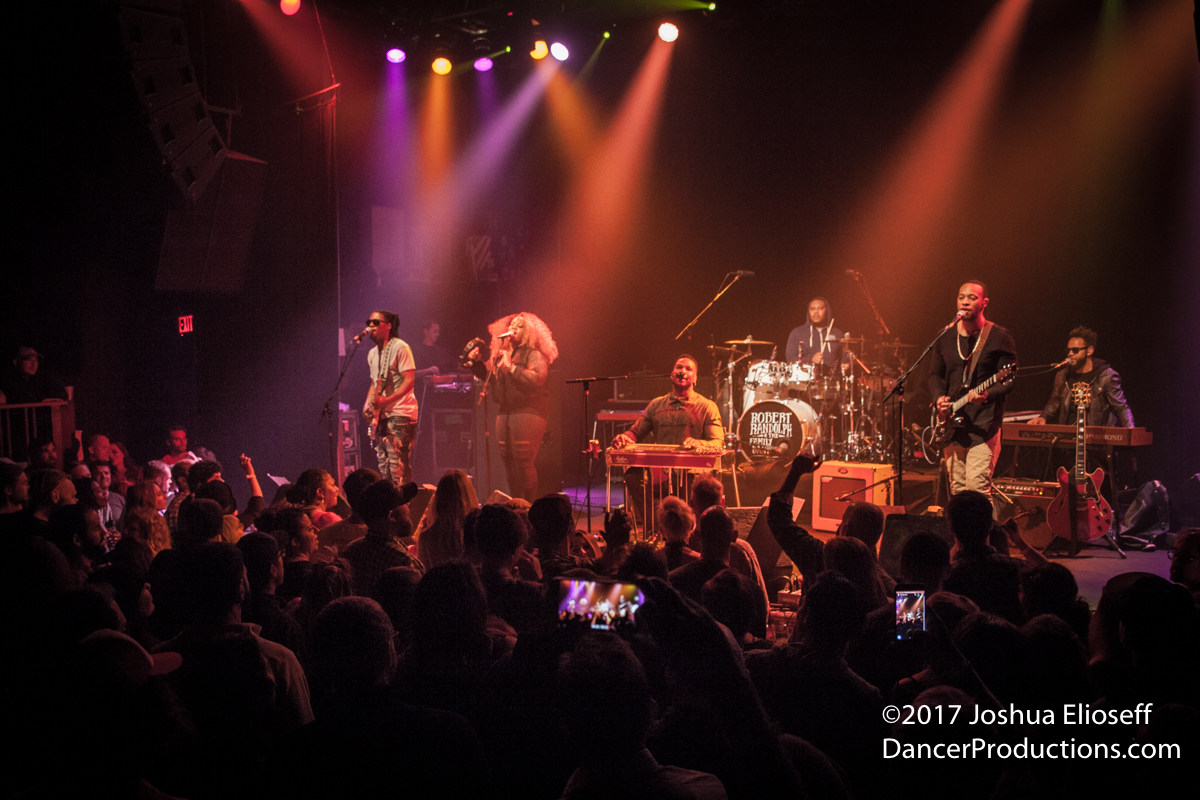 The constant thread running through this celebratory show was Robert Randolph's virtuosic pedal steel playing. The word "virtuoso" often makes me cringe just a bit, as it's almost as overused as the word "genius." But here I have no qualms: the man is a master of his instrument. Between virtually every song in the set he took little solo excursions, and while all members of the Family Band proved themselves powerful soloists, it was obvious why Robert was consistently featured: his inventiveness and fluency, his melodic improvisational skills, the sheer eloquence with which he joyfully tears into yet another solo break. All of these were heavily evidenced and undeniably exciting every time they were used. I never once thought, "Oh no, not another pedal steel solo!" To the contrary, every solo, every note he played just had me shaking my head in awe. Enough has already been said about the novelty of hearing a pedal steel guitar used outside of country music, especially in the way Randolph does. I'll let it suffice to say here that if you haven't checked him out yet, do it! Especially if you love funk and soul as much as I do. I haven't been nearly as blown away by an unusual instrument in this type of music since seeing violinist Lili Haydn tear it up with George Clinton and Parliament Funkadelic.
Since the band is currently touring on their Got Soul album (released in mid-February of this year), it was no surprise to hear songs from it throughout the show. Standouts for me included the one-two punch of the title track leading into its "sister" song, "She Got Soul" (a tribute to mothers inspired by a Mother's Day church service Randolph attended), the supremely soulful tunes "Love Do What It Do," "Find A Way," and "Shake It Off" with their inspirational messages of self-affirmation, the lovely "Heaven's Calling," and of course their rendition of "I Thank You."
My number one criterion for rating a show is this: "Did I ever feel like it was okay to go outside for a break?" And my answer for this show was: "Nope!" I was fearful of missing anything. And when, near the end, Robert called out the members of opening act The New Respects for an onstage jam of Sly and the Family Stone's "Thank You (Falettin Me Be Mice Elf Again)," I felt grateful for staying right where I was all night, though of course I had never stopped moving since the first song of the show. That's another thing about Robert Randolph and the Family Band live: You just have to dance.
In chatting with Robert a bit before the show, I learned he and his family grew up in a Pentecostal church in which music played a huge part. In fact, their particular church has its own term for its music: "sacred steel." One thing I was curious about was how Robert's relationship with his family who are still involved in the church has been affected by his going out and playing "secular" music. He said it was "a little strained at first," but that their relationship is still strong. To which I replied, "Oh, so it's not like some of these religions where you actually get shunned if you leave? I've always thought that was so sad." "Well I've been shunned by the church, though," he said, "They don't let me play there anymore. They call me the devil."
Now that is truly a shame, and a mistake, and let me tell you why. I'm not religious, but I've seldom felt closer to something like heaven than I did at this show.
All photos, videos, and embedded tracks per the artists featured and those credited. Gallery per Joshua Elioseff. This feature was edited for brevity and clarity by BolderBeat.